Information
The following information is designed to help guide you in selecting and creating a special memorial honoring the life of your loved one. Do not worry Cherokee Monuments will help you through each step of the process until you are satisfied with the selection you made.
History of Memorialization
Throughout time people have built monuments to remember their loved ones. The word "monument" comes from the Latin word "monere" which means "to remind". In early times, monuments may have been a pile of rocks or wood native to the region. Later in time, tombs and pyramids were built adorned with elaborate are. In more modern times, have come estates, mausoleums, large war memorials and cemeteries. Even with cremation, memorials are even more essential way of paying tribute to those we love. Monuments are an everlasting tribute and a historical record honoring your loved one. It is a gift of never being forgotten in a special place of remembrance.
https://www.youtube.com/watch?v=VvXqiobcJ_4
https://www.youtube.com/watch?v=K3yZkIXyhO8
Cemetery Monument Regulations
Some cemeteries are private estates, church owned, veteran memorials, state or city owned or owned by a company. Most cemeteries have monument requirements on the size, style, and material used. You will get a good idea of those requirements with a quick visual survey around your cemetery. However, we recommend you receive a printed copy of the restrictions from the cemetery office. If they do not have a copy, you need to ask the following questions:
What restrictions are on burying cremation remains in a plot? (How many) Are columbarium allowed?

What are the size requirements for single and companion markers? (maximum length, width, height)

What style memorials are allowed? (Bronze, flat, bevel, slant, upright monuments) also, are ledgers allowed? (large granite that lays on top of plot)

Are there any restrictions on materials? (granite, marble, bronze, colors)

What extras are allowed? (statues, lights, benches, vases)

What are the setting fees and foundation requirements?
Remember, your cemetery may recommend monument companies but cannot require that you use them.
Choosing a Monument
Knowing your cemetery requirements will help in choosing the right memorial. Before starting, gather your thoughts with the help of pictures, mementoes and stories about your loved one. Write down what was important to him or her, like their faith, hobbies, accomplishments, and service.
STEP ONE – Style
Are you choosing a monument for an individual or companion (two people)? Some families have multiple plots (6 – 8) where you may have a large marker with family name with each plot having an individual monument.
Styles for Burial: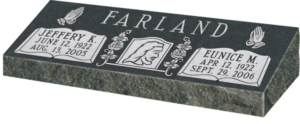 Grass or Flat Granite Marker                                                                                                     Bevel Granite Marker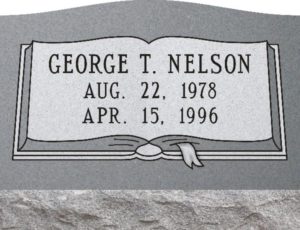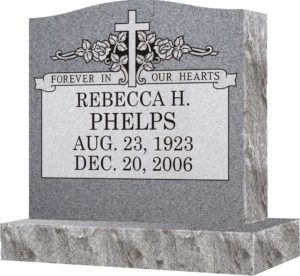 Slant Granite Marker                                                                                                                 Upright Granite Marker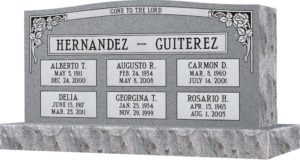 Upright Family Granite Marker                                                                                              Bronze Flat Marker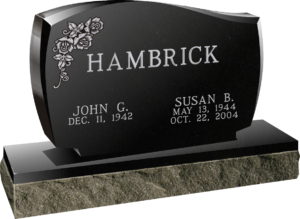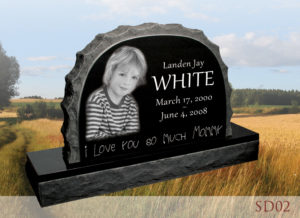 Etched Upright Marker                                                                                           Etched Upright Marker With Image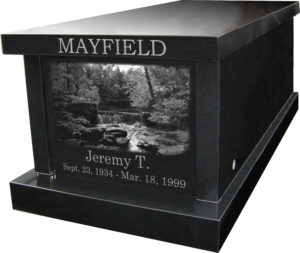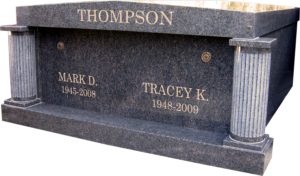 Mausoleums
Styles for Cremations: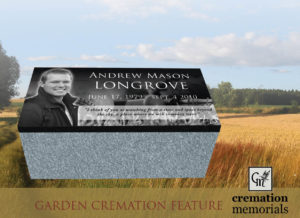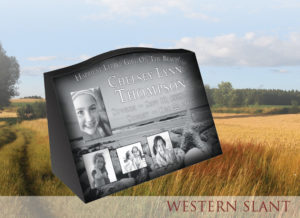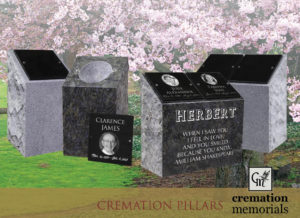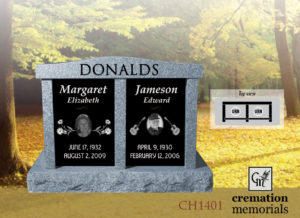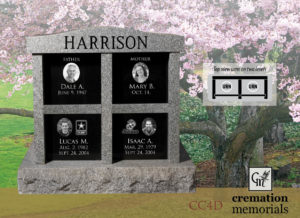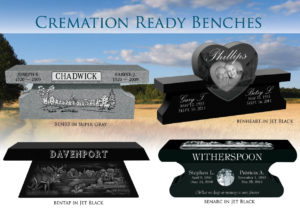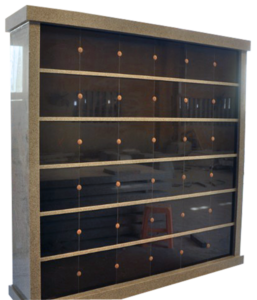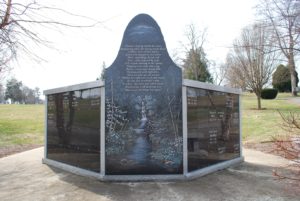 Columbarium                                                                                                       Columbarium

Whether basic style or nontraditional style, Cherokee can adapt any style memorial and make it personal to your loved one.
STEP TWO – Material
Granite is the most used material for monuments. Marble and bronze are used less but are just as stately as granite.
Granite comes in a variety of colors, shapes, and sizes. Less expensive than marble or bronze. Marble is mostly white and bronze can be painted to create a different appearance. Granite is going to be more cost effective. However, rare granite colors can be pricey. In designing your monument, Cherokee shows pricing options with each material you choose.
Granite colors
Bronze Colors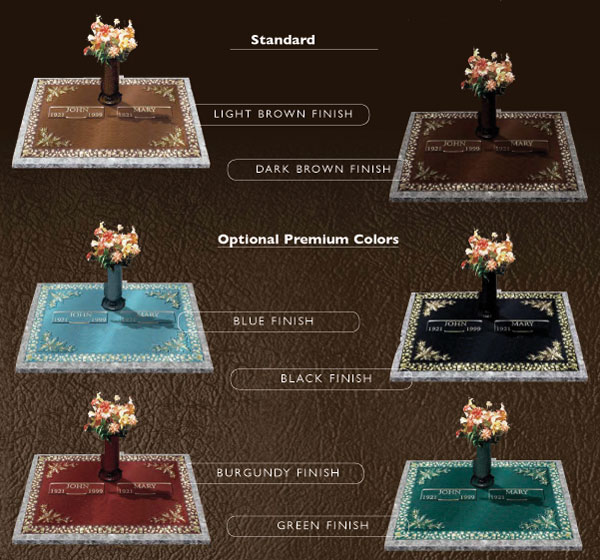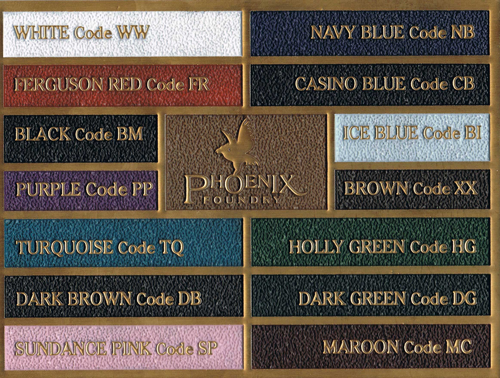 STEP THREE- Size
All monuments are described in their size as length, width, height. As you look at a monument length would be the distance from left to right. The width would be the distance from the front to the back. The height would be the distance from the bottom to the top most point.
For example: A flat marker size of 30 x 14 x 4 (also referred to as 2-6 x 1-2 x 0-4)would be 30 inches in length, 14 inches in width, and 4 inches in height.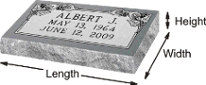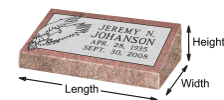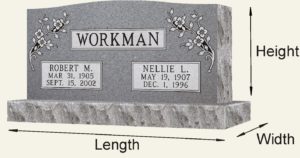 STEP FOUR- Shapes of Finishes
There are little variations in the rectangle shape and the polished top finish of the flat and bevel markers. However, slant and upright monuments can be made with a variety of shapes and finishes.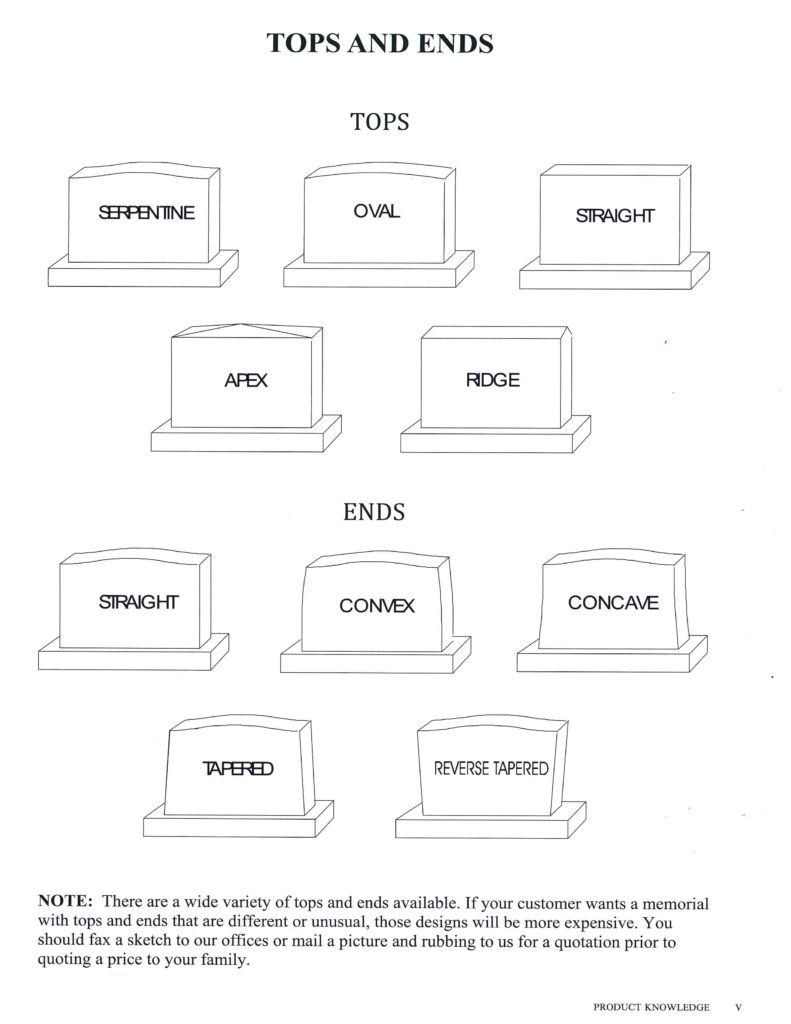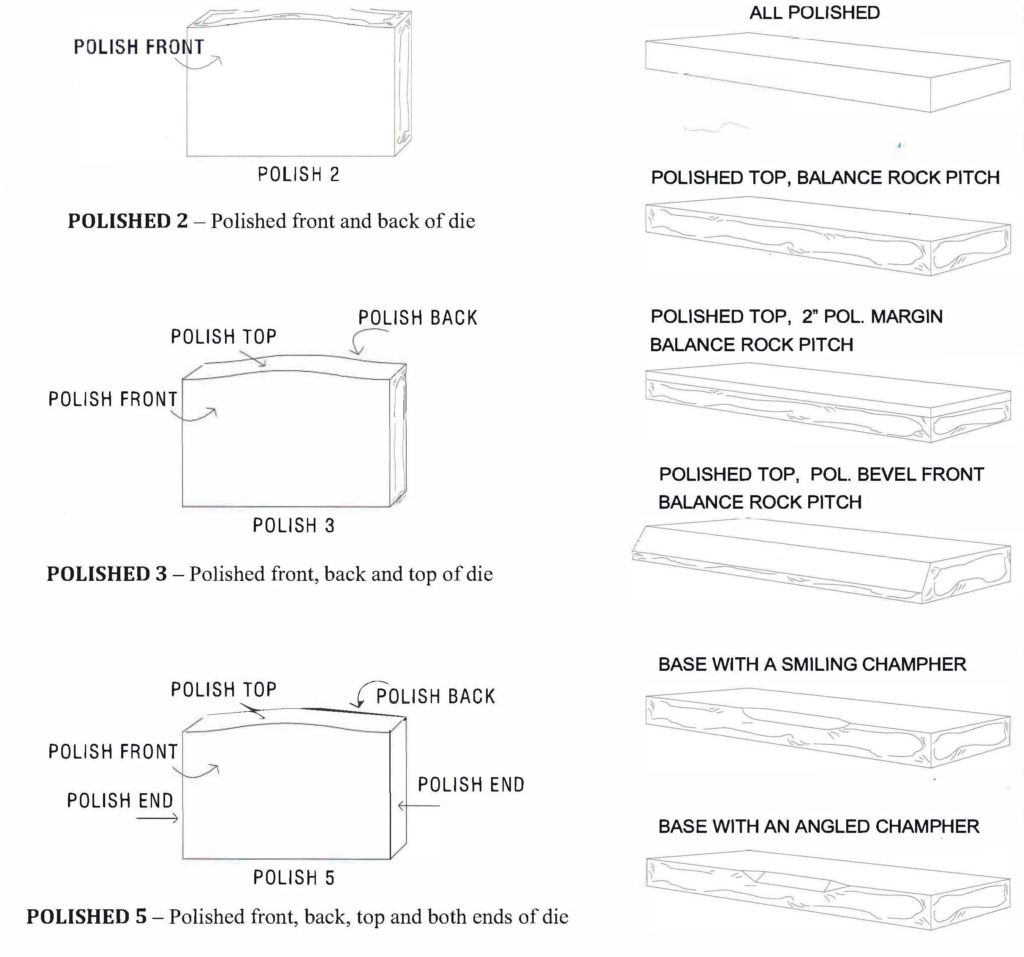 STEP FIVE - Designing
After choosing the style, material , size, shape, and finish, it is time to design your monument.  With thoughtful reflection, Cherokee will artfully help you design a long lasting monument honoring the life of your loved one.
There are thousands of combination options when designing your memorial. We will carefully go through lettering styles and font sizes as well as carving designs, emblems and scenes.
Cherokee can also design monuments with ceramic memorial portraits or tell your love one's story with etched scenes and photos on blank granite. Cherokee can also show how adding bases, statuary or lights can enhance your memorial.  The use of scripture, epitaphs and poetry can easily be included on your monument. Remember,  this monument is personalized to honor and celebrate the life of your loved one.
https://www.youtube.com/watch?v=OACBuqf0Tqk
PRICING
Cherokee Monuments works with all budgets from a few hundred dollars to several thousand dollars. There are many factors that will go into the pricing of your memorial.
♦  The style, material and size
♦  Additional items like vases, statuary, ceramic, photos
♦  Cemetery and setting fees
♦  Appropriate sales tax
We will show you the cost throughout the design process to assure we stay within your budget.
Cremation Memorialization
When cremation is chosen, it is just as important  memorialize that special loved one. Since there is no grave marker for remembrance, Cherokee specializes in memorial products to remind you of that special one. We can artfully design garden memorials like bird baths, garden urns, plaques and much more.
https://www.youtube.com/watch?v=k_AQNlN9UAE
 Pet Memorials
Cherokee can never forget our faithful friends who are also part of our family.  We take great pride in designing pet memorials to reflect your love and honor their faithful love in return.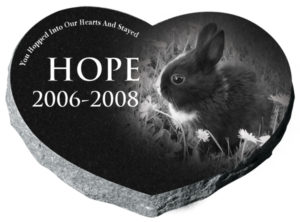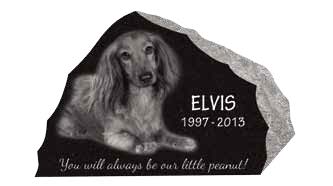 Grass or Bevel Pet Memorials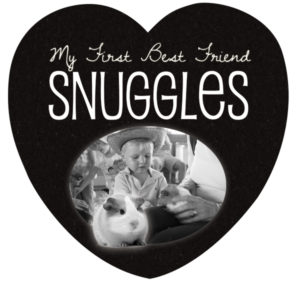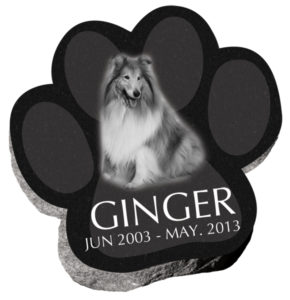 Unique Designed Pet Memorials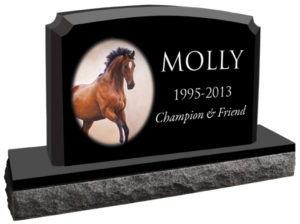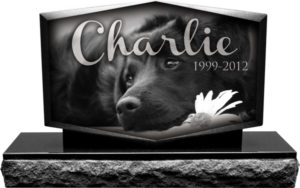 Upright Etched Memorials for Pets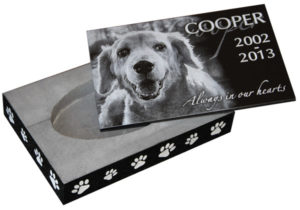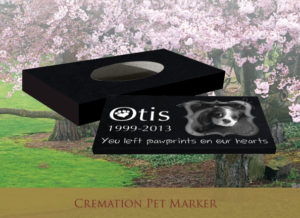 Cremation Memorials for Pets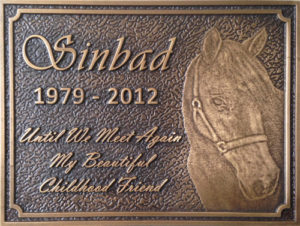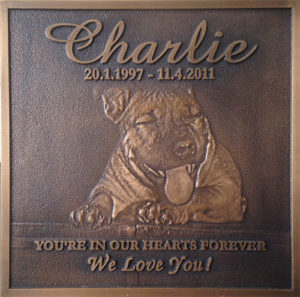 Bronze Pet Memorials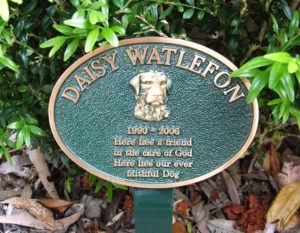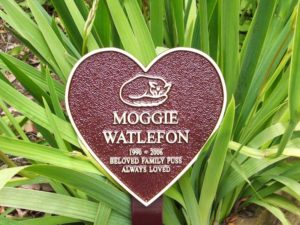 Bronze Pet Markers for Remembrance Gardens